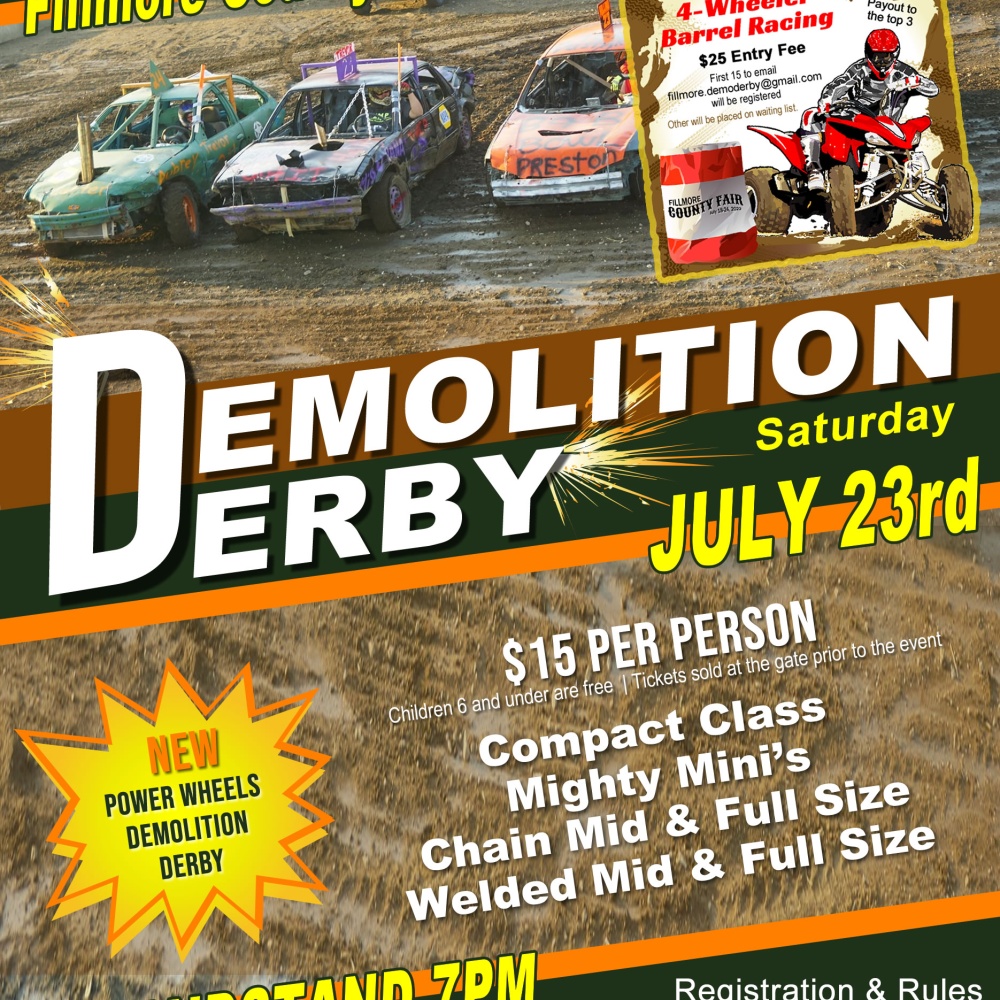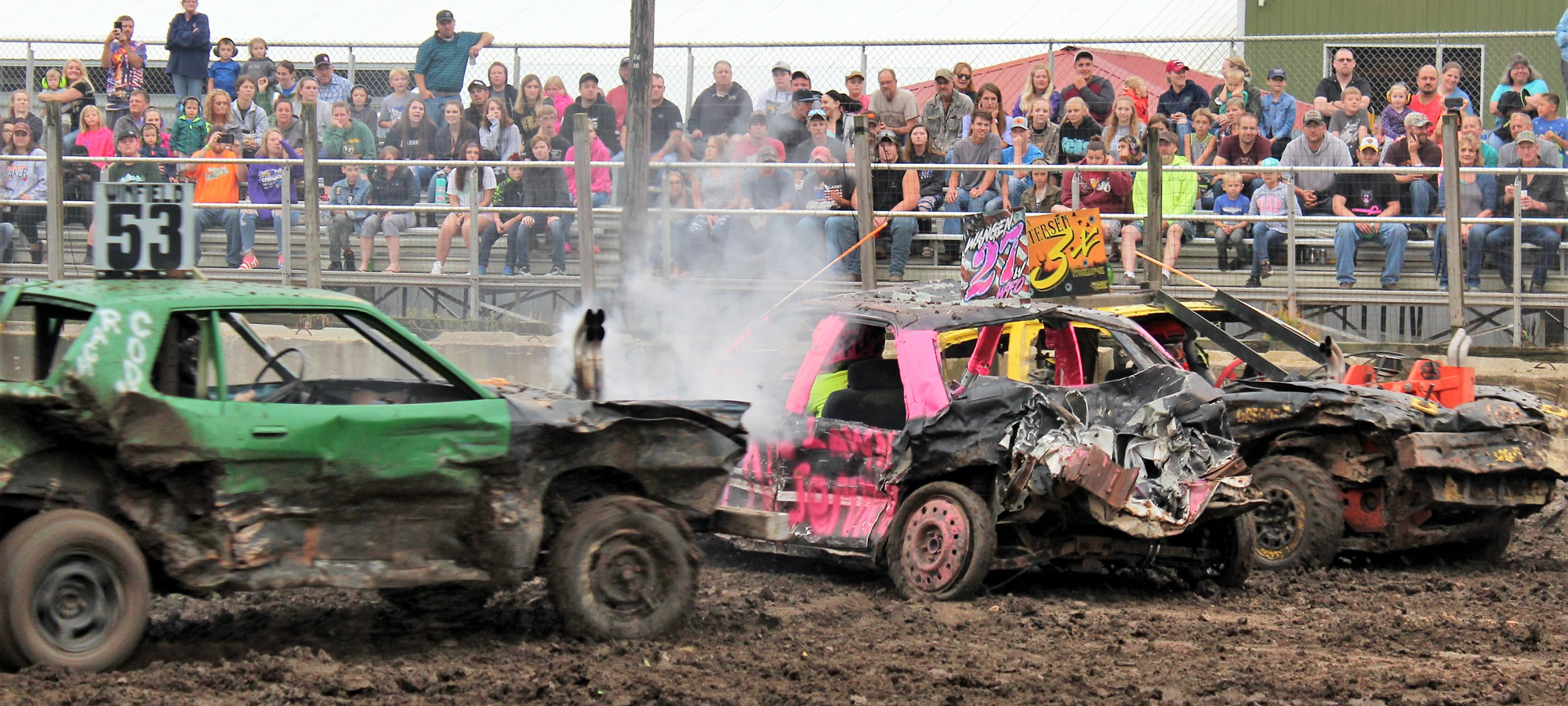 Fillmore County Fair Demolition Derby
With 4-Wheeler Barrel Racing & Power Wheels Demolition Derby
Saturday, July 23 – 7:00 p.m.
$15 per person | Tickets sold at the gate prior to the event (Children 6 and under are free)
$5 per
$5 Per person
$5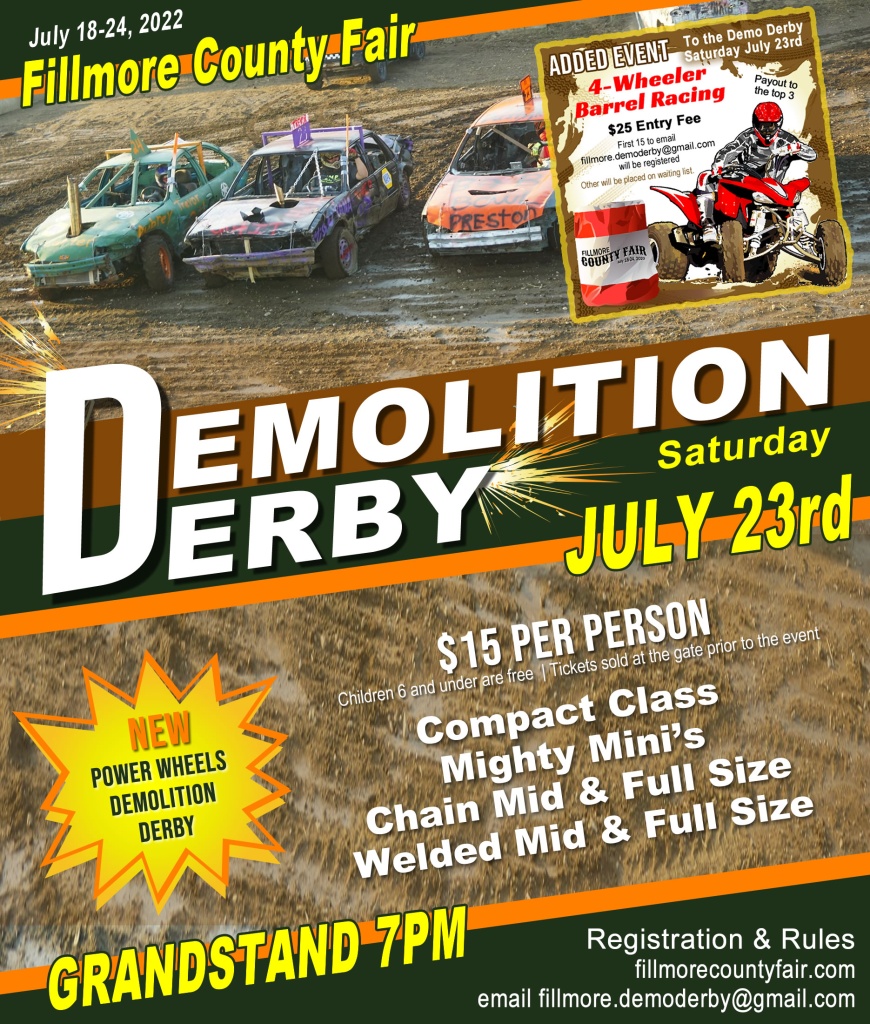 REGISTRATION
CAR CLASSES
Compact Class
Mighty Mini's
Chain Mid Size
Chain Full Size
Welded Mid Size
Welded Full Size
ENTRY RULES:
In the interest of safety, everyone is subject to and must obey the following rules and regulations, which are set up by the Fillmore County Agricultural Society.
Each driver MUST fill out an entry blank.
Drivers ages 16-17 must turn in a NOTARIZED waiver.
Officials reserve the right to approve or reject any and all entries
Only the driver, owner, mechanics, etc. who sign the release form will be permitted in the pit area.
No one under the age of 14 is allowed in the pits.
DRIVERS ENTRY
Anyone, 16 years of age or older (notarized waiver is required for participants age 16 and 17) , may participate in the derby. NOTICE: All persons under the age of 18 years of age MUST HAVE A MINOR RELEASE WAIVER SIGNED BY A PARENT AND NOTARIZED.
Any driver not obeying the rules will be disqualified. For the safety of all concerned, this will be enforced.
No pit passes will be sold until the car passes inspection!
If the car doesn't pass inspection, the care, driver and pit crew are not allowed in the pit area.
Please follow the rules!
PRE-REGISTRATION is Suggested
Entries must be received by mail before noon on Thursday, July 7.
Contact fillmore.demoderby@gmail.com to verify if your registration was received.
Entry Fee $40 for car and driver – Submit the fee with the entry form.
All pit passes are $20 and to be paid at the demo registration gate. Must be 18 years of age or older to be in the pits or have parents signature.
Power Wheels Demolition Derby
This derby will take place at the Demolition Derby, Saturday, July 23rd. Pre-Registration required. No entry fee. Maximum of 30 entries. This event is for ages 3 to 10 years old. This is a timed event. No winner or cash prize. Everyone receives a trophy. Must be on fairgrounds and in the pit area by 6 p.m. One parent/guardian and driver allowed in the pit. All other family members must purchase grandstand tickets. Tickets are $15. For more information contact fillmore.demoderby@gmail.com.